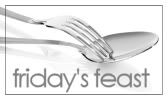 Appet
izer
Do you consider yourself to be an optimist or a pessimist?
I consider myself to be an optimist most of the time.
Soup
What is your favorite color of ink to write with?
Blue. Medium point.
Salad
How often do you get a manicure or pedicure? Do you do them yourself or go to a salon and pay for them?
Not as often as I'd like. I love to have my nails done, but having nails plays havoc with my ability to type. I have trouble justifying the money for a manicure, and even more trouble justifying the expense of a pedicure, even though I feel wonderful when I have either done.
Main Course
Have you ever won anything online? If so, what was it?
No, but I don't enter contests online, so it's not surprising!
Dessert
In which room in your house do you keep your home computer?
My home computer is in my office. My laptop is usually next to my favorite chair in the living room.